Learning more, knowledge is endless to learn.Get more closer with technologies, because it drives everything even thought.
Dr. Darika Lathapipat
President of Dhurakij Pundit University
A leading Private University focusing on Business Entrepreneurship
Founded in May 1968 in Bangkok, Dhurakij Pundit University (DPU) - which literally means "Business Knowledge" - is one of Thailand's leading private universities, with a student population of approximately 18,000.
It was the fi rst university in Thailand certified "ISO 9001:2008" by the International Organization for Standardization. Currently, undergraduate and graduate degree programs are offered by the university's nine faculties, the graduate school and the university's international college (DPUIC).
DPU has affiliations with universities in Australia, Canada, China, France, Japan, Sweden, the United States, and ASEAN. In 2017, DPU entered the digital era with a new strategy centered around the "Entrepreneurship University" concept.
Expand 3 DCs' Storage Capacity, Efficiency and Reliability
To accelerate its digital transformation, DPU wanted to modernize its network infrastructure to support new applications such as new course online learning and interactive classrooms.

DPU also aimed at enhancing its Wi-Fi coverage all over the campus, covering almost 100 rai of land, to improve students' usage of new applications.
DPU chose to work with Huawei to upgrade its network infrastructure by deploying Agile Controller-Campus, Huawei's next-generation controller for campus networks. This enabled DPU to build a wireless network connecting the campus' 30 main buildings and outdoor areas, with a higher bandwidth from 1Gbps to 80 Gbps.

Used in multiple innovative solutions, such as automatic network deployment, policy automation, and SD-WAN, SDN Campus, Agile Controller-Campus reduces DPU's Operating Expenses (OPEX) and Operations and Maintenance (O&M) costs, while accelerating service cloudification and digital transformation.

To ensure that all students, professors and university staff can access the Internet both in buildings and outdoor areas, Huawei installed wireless access points that support 802.11ac Wave 2 standards, 4 x 4 MIMO and four spatial streams, providing a rate of up to 2.53 Gbit/s and applicable to medium and large high-density scenarios.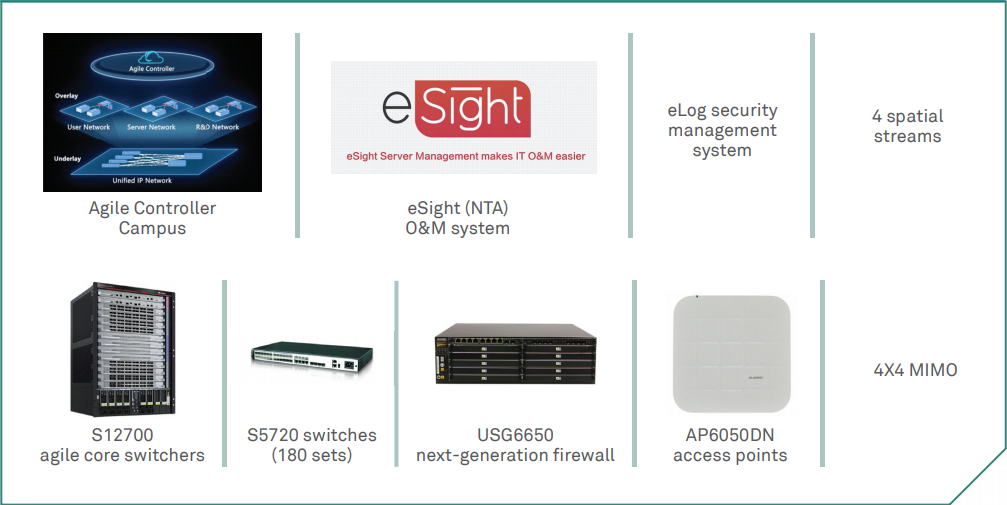 DPU enjoys a brand-new Wi-Fi infrastructure in all campus areas, including over 30 buildings and outdoor space covering almost 100 rai of land
DPU benefits from a 5-year maintenance agreement with Huawei, which helps reduce total costs of operation (TCO), including OPEX and O&M
The new high-speed campus network supports new applications, allowing students to access internet and manage their studies while interacting with their professors and university staff
Wi-Fi coverage is more stable and offers higher security, allowing the smooth usage of all applications
Network management is more agile and network O&M more intelligent.