SWU believe that things will change so fast in the next 5-10 years, Hence, SWU have started the transformation and fully pushed the digital development with the focus on infrastructure and systems.

Assoc. Prof. Dr. Somchai Santiwatanakul
President of Srinakharinwirot University
One of Thailand's Most Respected Universities
Founded in 1949, Srinakharinwirot University (SWU) was the first upper-education institution in Thailand to concentrate solely on teacher training. With a population of more than 25,000 students, SWU comprises four colleges and seventeen faculties at two campuses:
The Prasarnmit campus, in downtown Bangkok (Sukhumvit Soi 23), houses several faculties, mainly in Social Sciences (i.e. Education, Humanities, Fine Arts, etc.)
The Ongkharak campus, Northeast of Bangkok, hosts the Faculty of Engineering and several Health Science faculties (i.e. Medicine, Dentistry, Nursing, Pharmacy, etc.)
All faculties and colleges offer Bachelor degrees and most of them offer Masters and Doctoral degree programs. Several faculties also run joint programs with overseas institutions, broadening the University's knowledge base. SWU aims to provide a well-rounded education and produce good citizens who will contribute to Thailand's development.
Improving Wi-Fi Coverage and Boosting Campus Safety
To reach its objective of becoming an "Innovative University", SWU management realized the need to upgrade its ICT infrastructure to support the use of educational applications in its two campuses.

The existing ICT system did not have enough bandwidth. There was no centralized identity authentication and access management. The monitoring system infrastructure was not up-to-date and unable to detect problems in real time. The wireless network was unstable and did not cover all areas.

Huawei suggested a 2-phase transformation roadmap that comprised the overhaul of SWU's core network, core backbone and monitoring system.
Phrase 1:


• To provide Wi-Fi connections around the two campuses, especially at the College of Social Communication Innovation (COSCI)

Phrase 2:


• To use Virtual Reality (VR) in classrooms, with additional devices as part of the new ICT infrastructure
• To ensure a Safe Campus, using AI applications and smart AI cameras managed from a centralized command center
Huawei Cloud Campus Network and Agile Controller
• Huawei Cloud Campus allows the use of smart applications through the network, with low latency. Huawei High Speed Core Switch brought a 20-fold increase in bandwidth. All buildings now have 20-Gbps bandwidth with an access to 40-Gbps in high-traffic data usage areas. Firewall 20 Gbps increased the speed of security checkup. The speed of the wireless network system increased to 2.5 Gbps.

• Huawei Agile Controller, with Huawei SDN and eSight, enabled SWU to organize, monitor and categorize various group users, based on priorities and bandwidth requirements, regardless of users' location.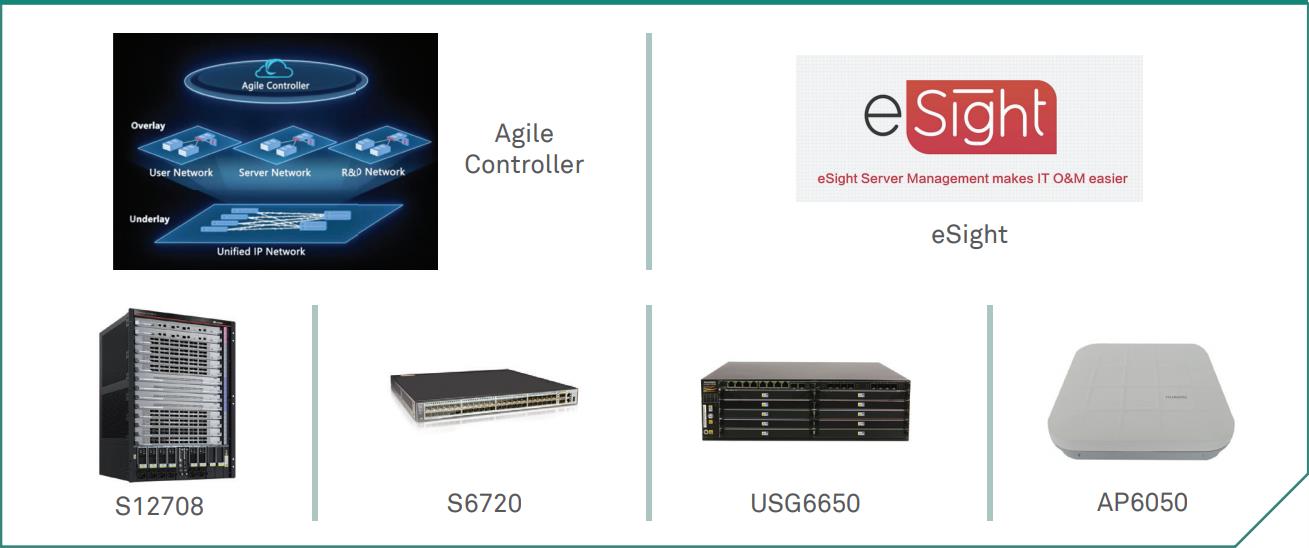 Students and professors enjoy full Wi-Fi coverage anywhere anytime within the university's two campuses, facilitating communication, creativity and innovative ideas
SWU can control, manage and monitor its ICT system more efficiently.