ESDS is one of India's Leading DC Providers
Founded in 2005, ESDS is one of India's leading Managed Data Center Services and Auto-Scalable Cloud Solution providers. With a global clientele, ESDS has become a leading Digital Transformation catalyst delivering advanced technology solutions to fulfil business needs.
ESDS has core expertise in Managed Data Center Services, Managed Cloud Solutions, Virtualization and Disaster Recovery Hosting. It can handle all kinds of operating systems, databases and various open-source applications. It provides its services to several industries, including Banking & Finance, Healthcare, Education, Energy & Utilities, Agriculture, Manufacturing, IT, Entertainment & Media, Travel & Tourism, Telecom, Government and e-Commerce.
ESDS' business model can be divided into two categories:
- Service Provider: Cloud Hosting and Data Center Services
- Products / Brand: eNight Cloud, eNight 360°, eMagic, VTM Scan
ESDS Firsts:
- 1st Indian Cloud Company to have Vertical Auto-Scaling Patent
- 1st Indian Cloud Company to have a Patent in Cloud & Infrastructure Hosting Space
- 1st Commercial Data Center to have an active Uptime Tier III Certificate
- India's only Cloud and Data Center company to have 50+ R&D engineers
Expand 3 DCs' Storage Capacity, Efficiency and Reliability
To cope with its increasing customer base, ESDS' goal was to expand its storage capacity across its 3 Data Centers located in Nashik, Mumbai and Bangalore.
It faced four main challenges to achieve its objective:
Insufficient capacity and low IOPS performance1, resulting in high Operating Expenses (OPEX) per GB/TB
Low Reliability and absence of an integrated and efficient Disaster Recovery (DR) solution
High Total Cost of Ownership (TCO), due to increasing expenses for the existing storage infrastructure, leading to a competitiveness decline
Low Efficiency, due to ineffective de-duplication and compression
OceanStor 5500F V5 with Cascaded 3DC DR
Huawei provided a two-fold solution:
1) Twelve controllers of Huawei OceanStor 5500F V5 were installed across the 3 ESDS data centers, with 500 TB of All-Flash usable capacity. Covered by a 5-year warranty, the system provides the company with 1ms-level latency and PB-level capacity.
This equipment delivers high performance, low latency and high scalability. It incorporates all high availability (HA) features, enabling functionality, efficiency, reliability and ease of use.
2) Huawei's Cascaded 3DC DR solution, including gateway-free SAN+NAS2, ensures data integrity and availability if a disaster occurs, with real-time data replication and continuous service support across the 3 data centers.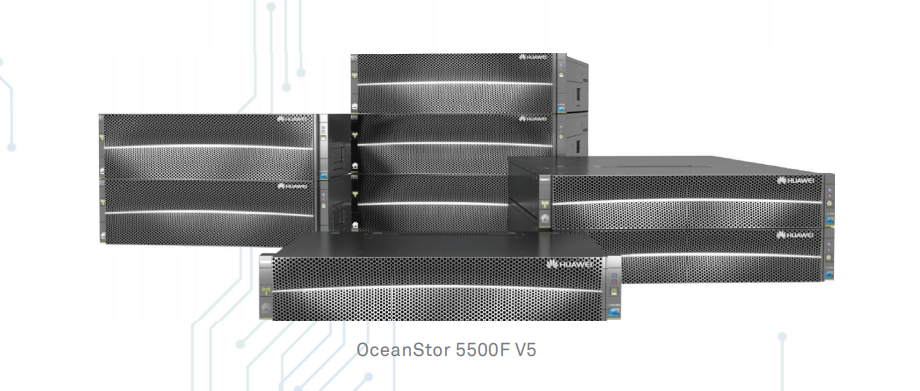 Better Service. Excellent performance and PB-level capacity based on All-Flash result in better services to ESDS' customers, which in turn attracts more customers.
Lower TCO. Huawei 3DC solution helped ESDS cut its TCO by 30%, significantly improving its competitiveness.
Higher Efficiency. Effective de-duplication and compression help ESDS save rack space and energy consumption. Storage resource allocation and utilization are more efficient.
---
1 IOPS: Input/Output Operations Per Second

2 SAN is a dedicated network of storage devices, including tape drives storages, raid disk arrays, etc.), all working together to provide an excellent block level storage. NAS is a single device/server/computing appliance, sharing its own storage over the network