One of the leading securities companies in Hong Kong
Orient Securities Co., Ltd ("DFZQ"), established in Shanghai in 1998, is a full-service Chinese securities company. DFZQ is listed on the Shanghai Stock Exchange and on The Hong Kong Stock Exchange Limited, being the fi fth Chinese securities company to be listed in both Mainland China and Hong Kong stock markets.

DFZQ employs over 5,000 employees across 168 securities branches in 81 cities in China. It offers comprehensive fi nancial services including securities, futures, asset management, wealth management, investment banking, investment advisory and securities research. Orient Securities International Financial Group Limited, a wholly-owned Hong Kong subsidiary of DFZQ, aims to be the leading Chinese securities company in Hong Kong by delivering best-in-class overseas fi nancial services to its clients. It is proud to mention that Orient Securities International Financial Group Limited takes the leading position in fi ntech, applying new technology that advances interaction effi ciency.


To better serve its roster of clients, Orient Securities International Financial Group sought the opportunity to upgrade its storage infrastructure. In order to support active-active service, it wanted a Disaster Recovery (DR) solution that could protect the mission critical system, and a multiple-purpose storage to serve VM Farm, File services, Backup and Archive systems.

In order to offer top-quality service without interruption, Orient Securities also planned a bigger storage capacity for backup and archive storage, and at the same time a solution that would use less space in the data center. It also wanted to reduce complicated cabling systems, delayed operations and high costs of ownership (TCO).
FusionCube for Cloud Infrastructure (HCI)
Huawei proposed to install FusionCube for Cloud HCI (Hyper-Converged Infrastructure), an IT platform complying with open architecture standards, converging compute and storage. It also pre-integrates distributed storage engines, virtualization and cloud management software, allowing for resource-on-demand provisioning and linear expansion.

FusionCube for Cloud also supports various hardware form factors, including blade, high-density, and rack, meeting the fl exible confi guration requirements of different services for compute, storage, and Input/Output (I/O) resources. The FusionCube for Cloud applies to cloud computing scenarios and is an ideal choice for deploying the IT infrastructure of cloud data centers.

This system offers an end-to-end solution from server, storage, hyper-converged infrastructure to data center facilities, which simplifi es infrastructure delivery and accelerates service roll-up.

Offering high density and resilience, this infrastructure can support the diverse demands generated by business growth. It provides cost-effective remote replication solutions, thus protecting the customer's important data. It also has the advantage of a single service focal point for all fundamental and mission critical infrastructure.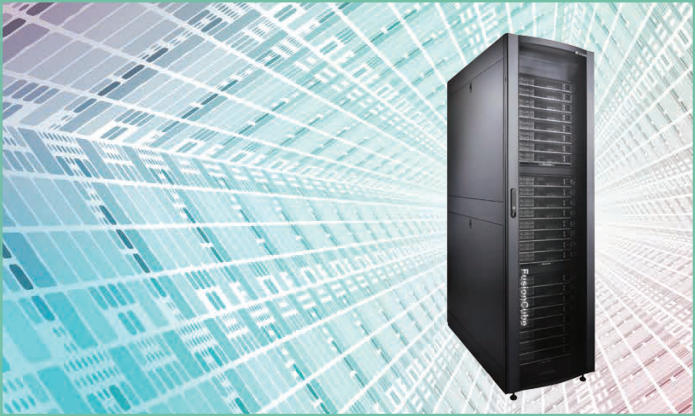 Orient Securities now benefi ts from several advantages:
Reduction of more than 30% of its data center footprint by consolidating servers to high-density blade servers
Reduction of 50% of its cabling and maintenance service
Implementing the storage DR solution reduced the company's Recovery Point Objective (RPO) to 3 seconds, enhancing the data protection level
Possibility to meet the increased demand from diverse applications and from unpredictable business growth